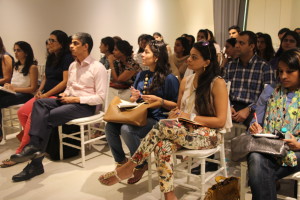 This information session is aimed at parents who wish to learn more about the pros and cons of the ICSE, IB, and CIE (IGCSE & A Levels) Boards.
Topics covered in this session include
Philosophy & framework of each Board;
Methodology of teaching and assessments;
Involvement of the Board/Accreditation process;
Impact on preparation for undergraduate degree programs in India/abroad;
Pros and cons of each Board.
Date and Time: Saturday, September 3, 2016
Morning Session (10:30am-1:30pm) – FULL
Afternoon Session (2:30pm – 5:30pm) – REGISTRATIONS OPEN
Location: Liberarte Central,304 Silver Pearl,Opp China Gate,Bandra
Charges: Rs. 1,500 per person
Please call 7506932456 to reserve a seat
These sessions have been previously organized in Juhu, Bandra, South Mumbai, Goregaon, and Khar. The sessions have received excellent feedback and have addressed many questions that parents have on the various education boards.
Some parent feedback:
"Very well prepared and presented talk, happy to have attended and going back with lot of learning about the differences and features of different programs"
– Sani Jindal
"The presentation really helped me think of a road map for my child's future."
– Manisha
"Thank you for the brilliant presentation. I came back with all the answers I needed, without asking any questions. Your presentation covered everything."                                     – Dayanand Kamath
"Excellent presentation, helpful, very interactive"            – Charmi Ajmera
"The session was absolutely worthwhile"         – Dimple Anandjara